Garden Inspired Floral Arrangements

Shop our collection of flowers and fresh floral arrangements
Garden Inspired Floral Arrangements
Shop our collection of flowers and fresh floral arrangements
Shop Flowers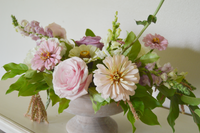 Unique Blooms
We love using a combination of unique flowers to give our arrangements an organic feel. From Zinnias and Sunflowers, to Roses and Dahlias, there is never a shortage of dramatic, eye-catching flowers locally here in Idaho. We do our best to source from local, US farms so the stems have less time in transit, which means more time for you to enjoy their beauty. Whether you're looking for a bright and sunny wildflower bouquet, or a dramatic neutral floral arrangement, we have floral designs with everything you're looking for.
Shop Flower Arrangements
Fresh Floral Arrangements
Our Passion For Flowers
Here at Thread + Vine we take our passion for flowers seriously. We are constantly pushing to source new colors and hard to find varieties. You'll notice our floral design style is a blend of unique and classic, to give a whimsical and romantic feel to all of our arrangements. With our love of design and unique experience, you won't find bouquets like this anywhere else.